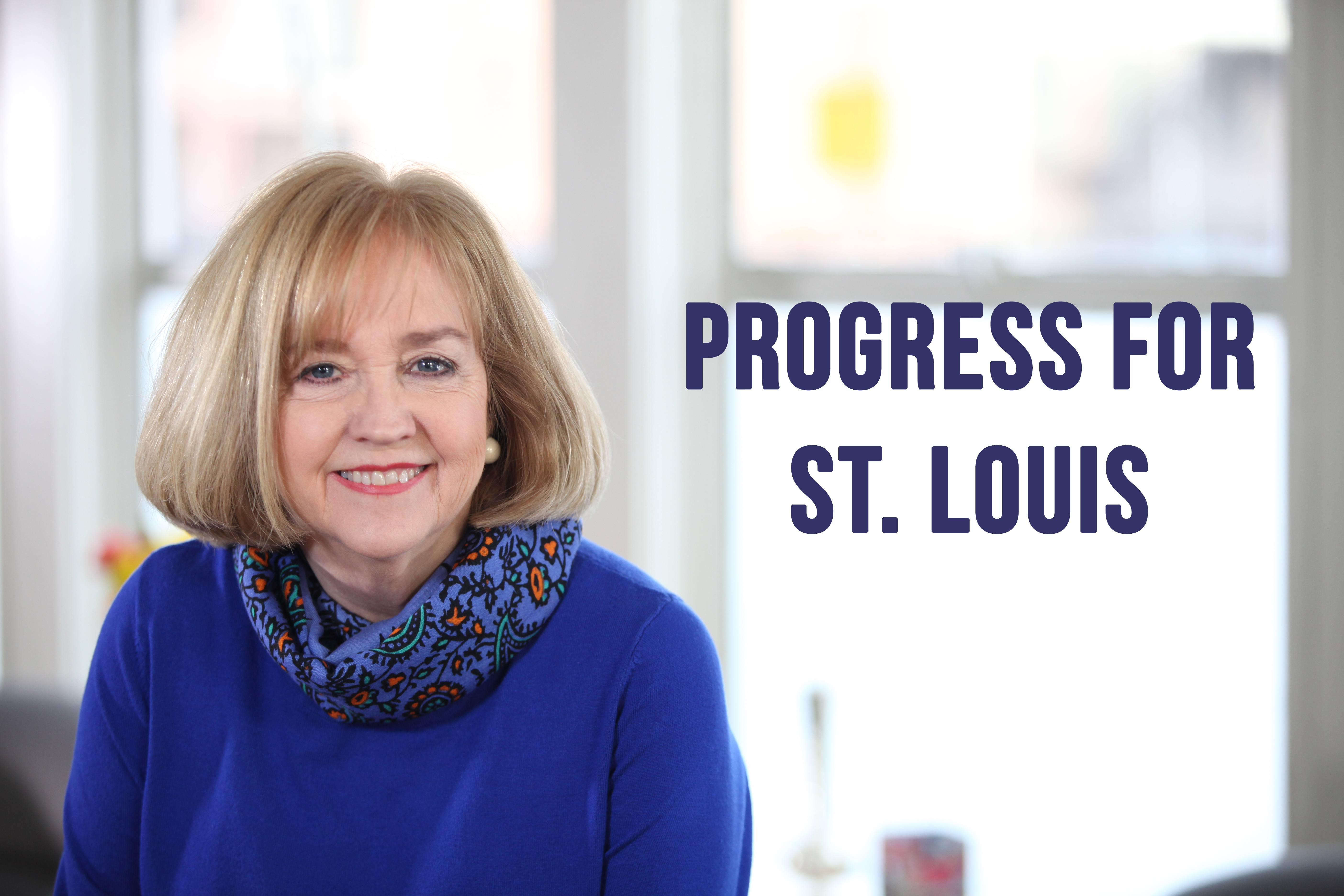 Mayor Lyda Krewson – St. Louis, MO – Our Second Year – Momentum…
I'm honored to be your mayor at a time of such great momentum!
As St. Louisans, we are modest – this can be charming, but we have so much momentum to talk about. Each of you have played a part in that momentum, through your companies, your institutions, your professional work, your volunteer work, and your families. You do SO much… government cannot, and should not, do everything! Thank you for your work!
There is over $8 billion in projects recently completed or currently underway. From the Arch, Soldiers Meorial, Ballpark Village, the Enterprise Center, the Aquarium & Ferris wheel at Union Station, SLU and SSM's new hospital, BJC and Washington University's campus renewal, the Foundry, the Armory, the Angad Arts Hotel and Hotel St Louis, Cortex, Chouteau's Greenway, to new apartment high-rises, and thousands of renovations going on in homes all over the City… in Old North, the Hill, Fox Park, Tower Grove, Soulard, the Grove, Cherokee, the Ville, Fountain Park, Downtown, Dogtown, Dutchtown, and DeBaliviere.
In 2018, we issued over $1.22 billion in building permits which represents nearly 4,000 new jobs, more than 6,000 residential units, 2.2 million square-feet in new commercial space, and more than 2,000 new hotel rooms.
There are cranes in the sky and construction dumpsters on the curbs… We are safer, more walkable, cleaner, and more livable. The New York Times recently headlined us… "once-quiet, now-vibrant." Forbes says… "rebounding," names us #2 in "Top Ten Rising Cities for Startups," and touts a cost of doing business at 8% below the national average. Inc. Magazine said "Forget Silicon Valley." The most exciting innovations happening in agtech are in this Midwestern city — and dubbed us the "Turnaround City."
On December 13th, we turned over the 97-acre National Geospatial-Intelligence Agency (NGA) site to the federal government. Design has begun and the construction contract has been awarded — solidifying this $1.7 billion project, and its 3,100 permanent and 1,500 construction jobs. But NGA is even more than a new federal facility. It is the opportunity to transform the neighborhoods around the site with businesses, housing development, and opportunities for residents.
Geospatial technology is everywhere, in our computers, our cell phones and many other gadgets. It is an industry projected to reach over $439 billion in market share in 2020, and we expect to continue to grow this sector in St Louis. We have world-class cultural institutions, and at T-Rex, Cortex, and through Arch Grants we are home to exciting and innovative startups and their creative owners and employees.
Since 2000, we have had a 13% increase in 25-34-year-olds moving into our City. It's not just about people moving here though… St. Louis continues to be a great place for the families who have lived here for generations.
On March 14th — 314 day —"STL Made" was launched. This is a mostly private sector effort to promote the best of St Louis – the stories of our people, our communities, our attractions, and our momentum. STL Made campaign reminds those of us who live here, and those around the country, that St Louis is a place where you can "Start Up, Stand Out and Stay."
We are supporting the pitch to be named the next Major League Soccer city, and build a privately-financed soccer stadium. Square is expanding to accommodate 300 new jobs over the next five years, and as Square co-founder and hometown entrepreneur Jim McKelvey said "there is talent all over the country, not just on the coasts."
We are continuing an intense focus on economic development, neighborhood safety, on vacant properties, on advancing as a Smart City, and on improved and equitable service delivery. We have made progress in all of these areas! Thanks to each of you, to the entrepreneurs, the makers, the doers, and the City employees who work hard every day to make it happen.
I am optimistic about our future. Brag on St Louis every chance you get. Don't be humble… we have a lot to be proud of. Let's stick our neck out, keep our sights high, and accomplish even more.
Click here for a few of this year's highlights and a look to Year 3.
Thank you for your involvement and for the opportunity to serve this wonderful and unique place that we call home.